Recommended for history buffs! Travel to Yamadera Temple and Kaminoyama to visit historic sites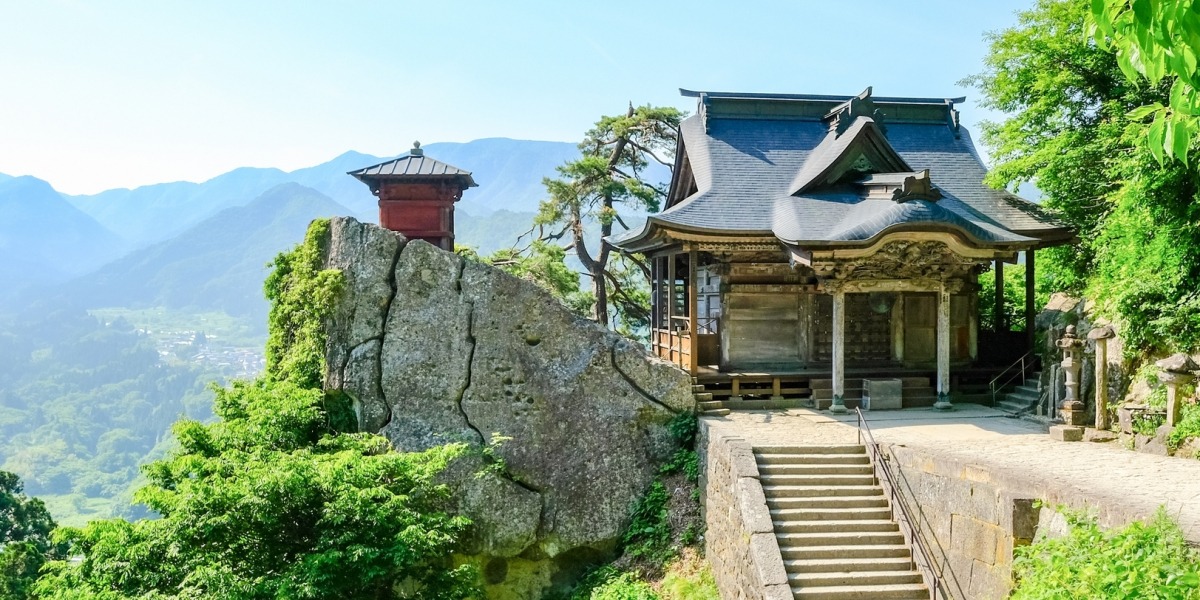 Suggested Time

2 days / 1 nights
Transport Options

Train,Walk,Taxi
How about enjoying historic walks with a Japanese atmosphere to Yamadera Temple, a sacred mountain temple representative of Tohoku, Kaminoyama Castle, a famous castle in Ushu, or Narage-shuku, an old inn town?
START
Day1
5 minutes
Risshaku-ji Temple
The historic temple rising to the sky along delightful mountain paths described in the great Haiku master's poem
Risshaku-ji Temple is popularly known as Yamadera (Mountain Temple). The rocky mountain itself is a sacred location for ascetic Zen practices. Visitors can enjoy breath-taking views along the one-hour path from the foot of the mountain to Okunoin Temple and Daibutsuden Hall at the top. The great Haiku master Basho Matsuo composed one of his best-known Haiku poems "Shizukesa ya/iwa ni shimiiru/semi no koe" in the work "Oku no Hosomichi" (Narrow Road to the Deep North) while walking this path.
The series of 1,015 stone steps to Okunoin Temple is said to steadily release visitors from their worldly desires as they ascend. The many historic sites and scenic locations along the way encourage visitors to continue the climb while enriching the mind and senses.
The path begins with Konpon Chudo Hall, the oldest cedar wood building in Japan and a designated Important Cultural Property. Midahora Rock is a lucky location that is said to bring happiness if visitors can find the figure of Buddha on the side of the rock eroded by wind and rain over thousands of years. Passing through the Niomon Gate with a pair of fierce guardian god statues brings you to the majestic Kaizando and Nokyodo Halls. The red Nokyodo Hall sitting on a craggy mountain outcrop is an iconic view of the Yamadera. The steps on from Kaizando Hall take visitors to Godaido Hall which is evocative of a traditional Noh stage offering a panoramic view of the surrounding mountains. The final destinations are Okunoin Temple and Daibutsuden Hall, which is said to expel evil spirits.
After exploring the mountain temples be sure to enjoy the variety of local specialties available at the nearby shops including Yamadera Chikara Konjac, cherry ice cream and Dashi Soba noodles!
30 minutes
35 minutes
20 minutes
10 minutes
Beni no Kura
"Yamagata Marugoto-kan Beni-no-kura" has functions of offering French food made from vegetables and fruits grown in Yamagata city, selling fresh and reliable vegetables and fruits grown in Yamagata city, and traditional crafts, planning and holding seasonal events, and giving tourist information. You will be satisfied with our services.
Storehouses in "Beni-no-kura" were owned by a major safflower merchant, Hasegawa family. Based on the idea of creating new value, using advantage of the history and the culture of Yamagata city, our goal is to rediscover and promote value of local resources in Yamagata city, revitalizing downtown of Yamagata city, and strengthening function as a tourist information center.
15 minutes
Bunshokan
See the luxurious decoration, a nationally designated important cultural property of brick that conveys the romance of Taisho era to the present!
The Yamagata Prefectural Folk Museum (nicknamed "Bunshokan") was built in 1916 (Taisho era 5) and was used as a prefectural government building and a prefectural capitol until 1975 .
It was designated as an Important Cultural Property of Japan in 1984, and over 10 years from 1986 (Showa 61), restoration work was faithfully carried out based on the construction method at that time.it is now open to the public free of charge as yamagata prefecture folk hall (nicknamed "Bunshokan").
The former prefectural government building is a three-story brick building, and the outer wall is covered with stone paste, and it has a profound appearance. The clock tower, which shows its face to the 4 side as the symbol of Bunshokan, is the second oldest in operation in Japan after the Sapporo clock tower. Watchmakers manually manipulate the weight that moves the pendulum once every five days and have been used carefully. Thanks to that, we have continued to tick the time to the present.
The former Prefectural Capitol building is partly brick and has been used as a venue for concerts and other venues when it is not used by prefectural associations from the beginning, and is still used for various events nowadays.
The interior of the building is also decorated with luxurious decorations. The entrance hall where you enter the inside and jump into your eyes first is full of the atmosphere of Western architecture. The stair railings are also decorated, and the landing is a lovely stained glass with a laurel ring decoration motif. On the ceiling of the front of Government Office (now an auditorium) just up the stairs, plaster decorations that shine with the fine skills of craftsmen are restored. Yamagata prefecture's specialties such as safflower and cherries are hidden, so please check and look for them.
Other rooms also have gorgeous decorations such as parquet floors made from a combination of wood and carpets woven in Yamagata. If you have a time, you can enjoy it even more by guided by a guide volunteer (free of charge).
25 minutes
15 minutes
15 minutes
Stay one night in Kaminoyama Onsen
Day2
Taxi
Yamagata Purin
Yamagata Prefecture's first purin (Japanese-style pudding) specialty shop. It has an assortment of puddings in interesting flavors made using high-quality local ingredients such as wine and La France pears.
5 minutes
Kaminoyama Castle Local Museum
15 minutes
Konnyaku (konjac) feast lunch
How about a kaiseki multi-course meal where all the dishes are made with konnyaku? It is healthy yet filling.
5 minutes
20 minutes
Yamagataken Kanko Bussan Kaikan
10 minutes
GOAL