Recommended for history buffs! Travel to Yamadera Temple and Kaminoyama to visit historic sites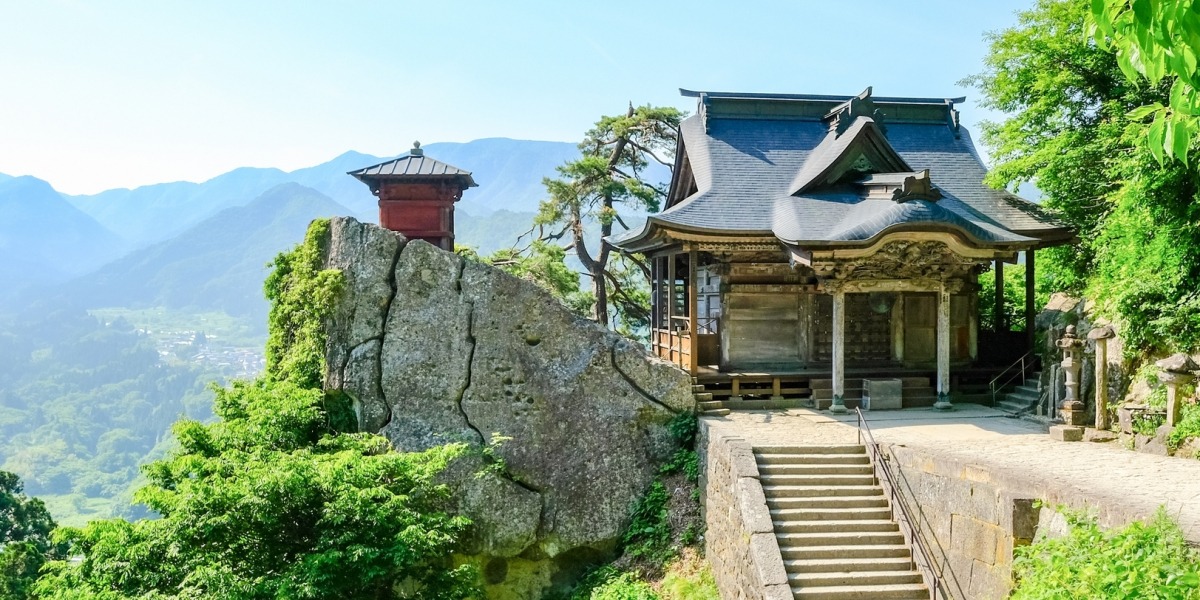 Suggested Time

2 days / 1 nights
Transport Options

Train,Walk,Taxi
How about enjoying historic walks with a Japanese atmosphere to Yamadera Temple, a sacred mountain temple representative of Tohoku, Kaminoyama Castle, a famous castle in Ushu, or Narage-shuku, an old inn town?
START
Day1
5 minutes
Risshaku-ji Temple
The historic temple rising to the sky along delightful mountain paths described in the great Haiku master's poem
Risshaku-ji Temple is popularly known as Yamadera (Mountain Temple). The rocky mountain itself is a sacred location for ascetic Zen practices. Visitors can enjoy breath-taking views along the one-hour path from the foot of the mountain to Okunoin Temple and Daibutsuden Hall at the top. The great Haiku master Basho Matsuo composed one of his best-known Haiku poems "Shizukesa ya/iwa ni shimiiru/semi no koe" in the work "Oku no Hosomichi" (Narrow Road to the Deep North) while walking this path.
The series of 1,015 stone steps to Okunoin Temple is said to steadily release visitors from their worldly desires as they ascend. The many historic sites and scenic locations along the way encourage visitors to continue the climb while enriching the mind and senses.
The path begins with Konpon Chudo Hall, the oldest cedar wood building in Japan and a designated Important Cultural Property. Midahora Rock is a lucky location that is said to bring happiness if visitors can find the figure of Buddha on the side of the rock eroded by wind and rain over thousands of years. Passing through the Niomon Gate with a pair of fierce guardian god statues brings you to the majestic Kaizando and Nokyodo Halls. The red Nokyodo Hall sitting on a craggy mountain outcrop is an iconic view of the Yamadera. The steps on from Kaizando Hall take visitors to Godaido Hall which is evocative of a traditional Noh stage offering a panoramic view of the surrounding mountains. The final destinations are Okunoin Temple and Daibutsuden Hall, which is said to expel evil spirits.
After exploring the mountain temples be sure to enjoy the variety of local specialties available at the nearby shops including Yamadera Chikara Konjac, cherry ice cream and Dashi Soba noodles!
30 minutes
35 minutes
20 minutes
10 minutes
15 minutes
25 minutes
15 minutes
15 minutes
Stay one night in Kaminoyama Onsen
Day2
Taxi
Yamagata Purin
Yamagata Prefecture's first purin (Japanese-style pudding) specialty shop. It has an assortment of puddings in interesting flavors made using high-quality local ingredients such as wine and La France pears.
5 minutes
Kaminoyama Castle Local Museum
15 minutes
Konnyaku (konjac) feast lunch
How about a kaiseki multi-course meal where all the dishes are made with konnyaku? It is healthy yet filling.
5 minutes
20 minutes
Yamagataken Kanko Bussan Kaikan
10 minutes
GOAL